It seems like every natural disaster in the United States is bigger than the last. In 2018 the Camp Fire was noted as one of the worst wildfires the state had ever seen, taking 18,000 structures. 2017 was the year of the hurricane, with Hurricane Maria killing over 5,00, Hurricane Irma knocking out 75% of Florida's electricity, and Hurricane Harvey creating over 125 billion dollars in damages to Texas, Louisiana, and Alabama.
Some natural disasters have the power to knock down electricity for weeks, and because of that, keeping food fresh is nearly impossible unless you have a generator, and even that can't handle powering up the entire house. The refrigerator can only stay cold for so long, and the bags of ice are already bought out at the grocery stores. What are you to do?
While it's hard to predict a natural disaster, it's easy to prepare yourself and your family for the worst, and that includes keeping an emergency food supply in your home.
Thankfully some stores, like Sam's Club, understand how important it is to build a survival kit complete with a high-quality food supply kit.
When The Power Goes Out For a Few Days
We love these Emergency Food Supply Pail by Augason Farms. Filled with 92 servings of lunch and dinner, this 4-gallon bucket is great to store in the house without taking up too much room. Simply keep the emergency food storage in a cool and dry place, like a pantry.
Unopened, this kit will stay fresh with a shelf life of 20 years. And the best part is that you get to enjoy favorites like Fettuccine Alfredo and Chocolate Pudding while playing checkers in the candlelight.
Augason Farms Lunch & Dinner Emergency Food Supply Pail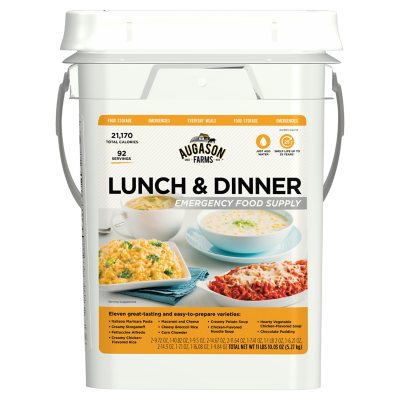 When the Power Goes Out For A Few Weeks
When disaster strikes, emergency preparedness is key, especially when it comes to having enough emergency survival food for your whole family. With a long shelf life, this survival food kit is prepared to serve a family of four for a month. This month supply includes breakfast favorites like buttermilk pancakes and oatmeal as well as corn chowder and chicken noodle soup for lunch and dinner. And when it comes to long term food storage, this kit cakes the cake, staying fresh up to 20 years.
Augason Farms Emergency Food Supply Kit (1 month, 4 people)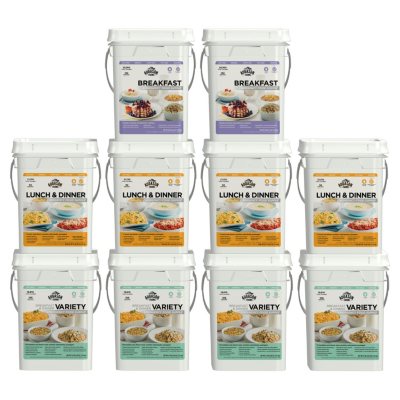 When It Seems Like The Power May Never Come Back
This is a worse-case situation. No one wants to imagine a world without power, but who knows what could happen in the future. When it comes to emergency food kits, this one year supply has everything you could ever want. Containing the means to cook meals, rather than subsistence food, this kit features 126 cans filled with 57 different freeze-dried foods including beans, banana slices, scrambled eggs, cornbread, and even brownies.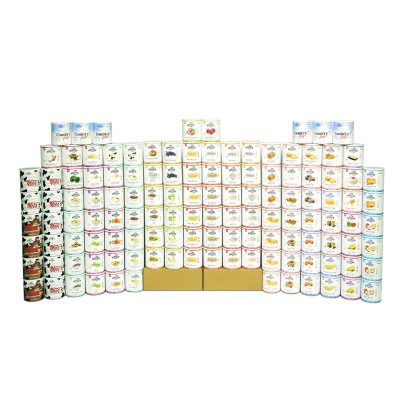 Along with these emergency kits, make sure to create an emergency situation plan with your whole family outlining where all emergency items are and where to go if disaster hits.
Enjoy Country Music?
Sign up for daily stories delivered straight to your inbox.