Here are 15 ways to make everyday life just a little bit easier and prettier. 
The everyday hustle and bustle makes it difficult to keep your home straightened and stylish. Once you do find the things that work best for your lifestyle, they're often pricey. Luckily, there are simple solutions out there to help with cooking, cleaning and organizing. The real challenge is finding them. Here are a handful of useful life hacks to save you time, space and money.
Make a pallet coffee cup holder
Finally, instead of just burning them in a mountain of firewood you can actually create something useful. Pallets are usually left abandoned on street corners. You shouldn't have any trouble finding a free one. You'll have an organized hanging system for all you're favorite mugs in no time.
Create a whiskey barrel coffee table
Looking at the same nightstands and coffee tables gets pretty old. This is a great idea on how to add a unique look to your home. Whether you're trying out something new for the bedroom or you want to add a little accent to your living area, this is a great project to take on. Contact a distillery and see if they have any old barrels you can claim.
Build a wood block iPhone stand
This one is all about practical meets decorative. Having an iPhone cord lying around isn't the most aesthetically pleasing thing for visitors to see. This hack is perfect for someone who plays a lot of music. You can use any piece of wood that looks right to you. With minimal tools, you'll have an awesome and attractive phone stand.
Make your own tiled mirror
Can't seem to find the right accent piece to go in your entryway? Look no further– this recycled window idea will add just the right look. Using a mirror can also make the space look larger. You can reuse a frame you already have or shop around at antique stores for just the right piece.
Make a bottle lamp
This DIY trick is perfect for an indoor or outdoor porch setting. Instead of buying an expensive lamp, just repurpose those Christmas lights. You probably already have everything else you'll need for this project tucked away somewhere. This will add a nice intimate glow to any setting.
Make a mason jar organizer
Everyone needs a little help in the organization department. This mason jar trick can declutter a bathroom, kids area or really anywhere you choose. All you need is a long piece of wood, jars and clamps. Plus, this will definitely add a little southern charm to your space.
Create a Tilt-Out Trash Can
You should look into this if you're someone who still has their trashcan sitting out. It masks the smell, and it's a smart way to hide the garbage from the dog. You'll even have a little more walking space in the kitchen. Paint and repurpose a cabinet from the thrift store or use one that's been sitting around.
Make a Whiskey Bottle Soap Dispenser
Making this soap dispenser is really easy. All you have to do is buy a pump for the bottle and paint the label with some Mod Podge to keep it from peeling. You can recycle any whiskey or glass bottle you find. Now you have a reusable soap dispenser you're proud to display.
Create a Penny Floor
You might think this is a weird one, but check it out. You don't have to do an entire room or floor. This is a cool way to use all that spare change for a sleek purpose. Create a small mosaic look in the bathroom or entryway. It takes patience, but you'll be happy with the results.
Create a crate organizer
Most people get sick of having the hallway or mudroom become a dumping ground for shoes. Sure, that's where they can go, but do they really have to be thrown in a huge pile? This mounted crate idea is the perfect way to get shoes and boots off the floor while still creating an old country feel.
Make colorful can centerpieces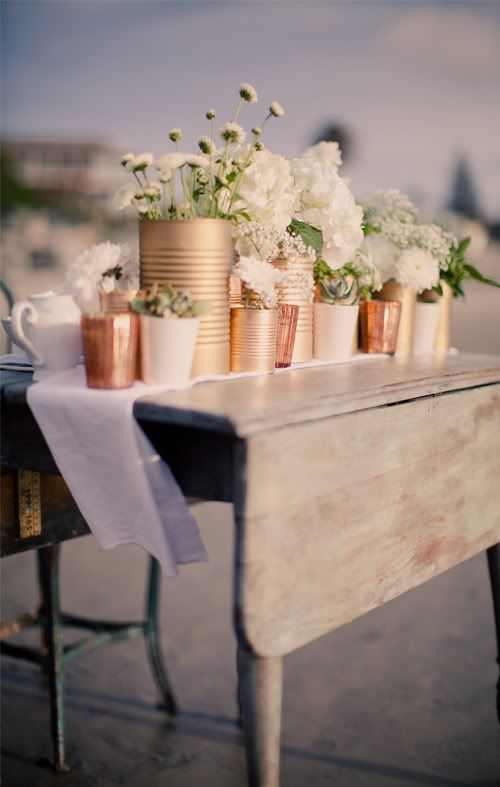 Especially during cold season families go through tons of canned soup. So, instead of tossing them all out, use them for a little home décor. You can peel off the labels and paint them, or keep the copper and silver tones as a theme for your vases. There are countless uses to recycling cans.
Grill salmon over lemon slices
This hack is a delicious way to get the most out of your lemons. Arrange the lemon wheels flat on the grill. Then, lay the filet right on top. Now the fish won't fall through the grill, and you'll get a tangy and delicious meal with almost no cleanup.
Make 30-second mayo
Mayonnaise is one of those condiments that you think you always need to buy. Well, this might just change that. Next time you run out of it, give this recipe a go. You can even add some extra ingredients like lemon juice to make this traditional condiment a little zestier.
Remove water rings easily
Having house guests over can definitely put a strain on your furniture. So, before you host the next game night, give this idea a try. All you need is a towel and an iron. You'll be on your way to a clean coffee table before you know it.
Create a Towel Rack Organizer
Stacking your pots is a great way to save space, but leaves the lids with no home. This towel rack idea is a great trick to getting the abandoned lids out of the way and leaving your cabinets open for other kitchen items. You can mount the rack in the pantry or even right on the kitchen wall.