The vocalists on The Voice are amazing, but the real entertainment comes when judges Blake Shelton and Adam Levine open their mouths.
Let's be honest-- Adam Levine and Blake Shelton might be the true reason we watch The Voice. When the cameras are rolling, Adam and Blake just can't poke enough fun at each other. Every night of blind auditions brings another insult-ridden competition to get the most talented contestants for their own teams.
They don't waste the in-between times, either--they fill them with sarcastic jabs about each other's hair, clothes or drinking habits. If you've ever watched an episode of the voice, you know that their oddly hilarious friendship could have just about anyone in stitches.
Adam and Blake's bromance--"Shevine," as pop culture has termed it--began with the first season of The Voice in 2011. They have a strange sort of "chemistry," if you can use that term for their love-hate relationship.
Since Adam and Blake are the only two judges who have participated in every season of The Voice, plenty of other judges have had no choice but to sit back and experience the strange phenomena of sitting between the country and city boys' chairs on The Voice stage.
In a strange, but delightful way, Shevine has brought us some of pop culture's best insults and injuries. Adam takes every opportunity to mock Blake's southern accent, make mean faces at him and remind him that he's tall and hefty enough to be a Sasquatch.
But don't worry--Blake will always retaliate. He almost always describes Adam as "scrawny," and his favorite insult is anything about how ridiculous Adam's outfits are.
In the most intense streak of love-hate bromance, Blake tweeted Adam's phone number on live television, leaving Adam with thousands of phone calls pouring in and an immediate need to change his number.
HEY EVERYONE!!! Here it is: (310) 493-7939 <-- @adamlevine's CELL NUMBER! Think I'm kidding? Try calling it!! Bitch!!!

— Blake Shelton (@blakeshelton) April 29, 2014
Adam and Blake may look like they're mean and nasty, but don't let it fool you. They're obsessed with each other, and they aren't afraid to show it. Hugs on set are a regular thing for these two.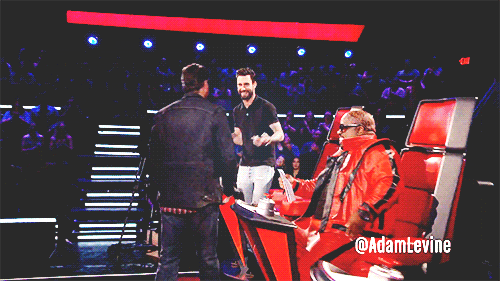 In the most expressive of bromantic moments, kissing is also routine for them.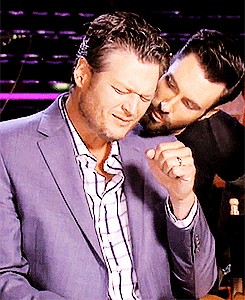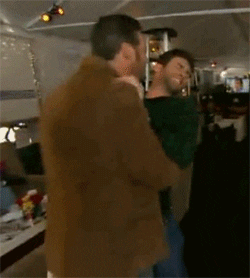 They're both extremely talented, and they don't hesitate to compliment each other when the right occasion comes. It can get a little awkward, but hey, that's just how Shevine rolls sometimes.
It isn't just an act they turn on during filming of The Voice, either. The two of them spread insults and chuckles everywhere they go. We all know Blake Shelton is the drunken king of Twitter, and making fun of Adam only makes his Twitter feed even more full of hilarity.
.@adamlevine didn't your mom ever tell you, "Don't pee on my leg and tell me it's raining"? That's you! #liar

— Blake Shelton (@blakeshelton) March 3, 2015
.@blakeshelton My mother is a saint. Leave her outta this.

— Adam Levine (@adamlevine) March 3, 2015
During a recent interview on the Ellen Show, Blake congratulated Adam on "growing up" when he got married, and Adam couldn't even begin to contain his laughter at the thought of Blake having kids.
This season of The Voice is already delivering more bromantic moments between Adam and Blake. In between dirty looks and underhanded jabs, they keep their "man crush" antics going. For the sake of everyone's entertainment, we hope they never stop.
Adam will always bring the mockery and Blake will always bring the BS. But no matter what, at the end of the day, they're bros forever.