The Nashville hot chicken conversation is in full swing, with tastemakers and homemakers alike weighing in on legendary Nashville institutions, such as Bolton's and Prince's and more recent upstarts such as Hattie B's and Party Fowl.
But these places got tons of ink. Celebrity chefs barrage them with interview requests. The New York Times has a correspondent that covers them.
There are a number of lesser-known establishments whose contribution to the hot chicken community are just as pivotal as those of the aforementioned luminaries. The following is a list of some of the Nashville hot chicken restaurants you may not have heard about.
10. Helen's Hot Chicken
Helen's Hot Chicken, a food-truck turned brick-and-mortar restaurant, caters to the raging hot chicken appetite that has existed for a generation in the historic Jefferson St. corridor and North Nashville's Germantown. Helen's is making converts out of age-old hot chicken ideologues by adhering strictly to their motto: "Hella' hot and Hella' good!"
9. Hot Stuff
This South Nashville outpost of piquant poultry may not have the name recognition of either Prince's, Bolton's or Hattie B's. However, Hot Stuff is increasingly sought out by foodies and old-school chicken aficionados for their no-frills, down-home approach to the Music City staple. The "X Hot" version is not to be taken lightly -- and definitely not without a shot of Hot Stuff's house-made coleslaw to snuff out the cayenne afterburn.
8. Hot Chicks
Hot Chicks is interesting in that, the name notwithstanding, they don't really do traditional Nashville hot chicken. Hot Chicks synthesize the hot chicken craze with another popular culinary concept: Fusion cuisine. From shrimp po' boys to bacon cheeseburgers, to a meatloaf platter to chicken tenders, this is soul food.
7. Deezie's Hot Chicken
Though technically outside the confines of Nashville proper, Deezie's Hot Chicken of Murfreesboro is firmly rooted in the tradition of Nashville-style hot chicken. Rumor has it that the chicken itself is fire, and the homemade fruit tea a perfect way to wash away the pain. Plus, they are proud to serve the increasingly ubiquitous brunch staple: Hot chicken and waffles.
6. Big Shakes
Big Shakes Hot Chicken and Fish has the burning bird market on lockdown in the Franklin neighborhood. And with hot sauce levels designed to surpass even the most immodest Franklinite annual income, Big Shakes is indeed shaking up the Smoothie-avocado-red meat culinary monopoly that has for so long characterized this posh Nashville suburb. Big Shakes' signature "Stop, Drop, and Roll" spice level -- so hot customers must sign a standard boilerplate non-liability clause -- has been known to cause more than one studio executive to dive headfirst from his tax bracket.
5. Scoreboard Smokehouse Bar and Grill
Located northeast of downtown Nashville, Scoreboard Smokehouse Bar and Grill has been dishing out their version of hot chicken long before Garden and Gun decreed it essential to do so. Scoreboard offers breast quarters, tenders and chopped chicken chunks in an assortment of flavors ranging from the benign ("Sissy" mild) to the politically incorrect ("Hiroshima Hot").
4. Harold's Hot Chicken
Harold's Hot Chicken, a relative upstart in the Nashville hot chicken universe, is located along the notorious Dickerson Road corridor, an outpost of urban resistance. "Authentic" is a buzzword commonly used to describe this charmingly minimalist East Side joint. Harold's do their part by holding strictly to the well-worn hot chicken model. They have various heat levels that serve as a de facto litmus test to measure the length of patrons' residency. Harold's features a daily lunch special at the reasonable price of $4.
3. Smokin' Thighs
Smokin' Thighs, located in the rapidly-developing southside Wedgewood-Houston neighborhood, is doing their part to add a much-needed shot of diversity to the hot chicken conversation. Instead of the traditional deep fried and slathered method used by a majority of Nashville hot chicken purveyors, Smokin' Thighs instead uses the "low and slow" BBQ method to their chicken.
Their "Nashville Hot" smoked chicken is seasoned with a secret mix of spices and arrives at the table juicy and robust after ruminating for hours in an Applewood smoke bath. Throw in one of the more liberal happy hours to be found in the city and Smokin' Thighs is increasingly becoming a destination hotspot.
2. Edley's Bar-B-Que
Better known as one of the leading lights in the fledgling Nashville barbecue scene, Edley's Bar-B-Que also dabbles in the hot chicken game. One day a week, the crew serves up their take on the standard lard/paprika/cayenne template for the hen-hungry hipsters of East Nashville. It's the kind of place people go when they want their soul food served by someone sporting Nietzschean facial hair and the secret spice recipe tattooed on his forearm in a dead Romance language.
1. A & C Hot Chicken and Fish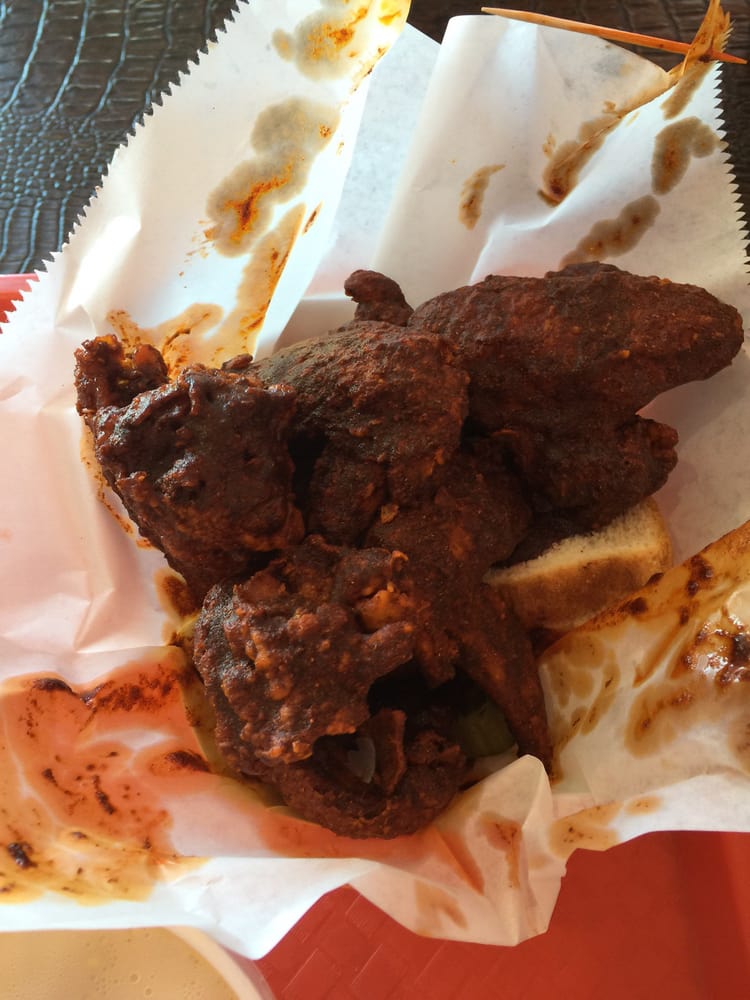 A & C Hot Chicken and Fish is a family-owned little secret located in Antioch, outside of the urban core's often kitsch-concentric culinary pretensions. The distance allows the folks at A&C to skip the hype machine and concentrate their energies on the first principle of the Nashville-style hot chicken: deep frying a battered bird and lathering it up in a paste so thick and red it might be confused for Satan's very own testament. It's a classic, old-school inspired Mom and Pop place replete with eccentricities (.25 cents for extra sauce; no free water.) Choose your heat level wisely, for the menu clearly states that there will be "No refunds, No exceptions."